This article will walk you through how to add players to your Team Roster.
Watch how to do this here or read the article below for a step by step process:

Step #1 - Your Team Dashboard
Go to your event page and then click on Event Details in the side menu to log into My Team Dashboard. This is where you can add players, view event details, hotel & team info, answer Player Questions and upload team roster.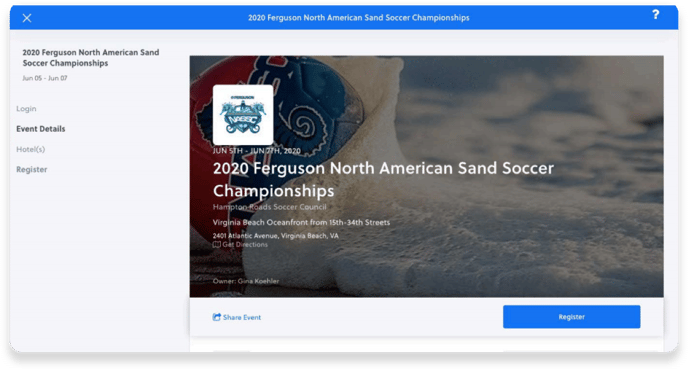 Step #2 - Manage Team
All aspects of roster management are done from the Team Dashboard and can be managed by Team Managers. Managers will invite all team members. Click on 'Manage Team' to add players, coaches, and managers.

Step #3 - Add Member
To add a team member, click on Add Member and then select the member's role.
Team members filling the role of both player and coach/manager will need to be added twice, once as a player then again as manager/coach.
Members who are both a manager and coach need only to be on the roster as one or the other and should select roles as follows:
• If a member is both the team's primary manager and a coach, select "Manager"
• If a member is a coach but is not the primary manager, select "Coach"

Step #4 - Add Member Details
Select the team member's role and then click next.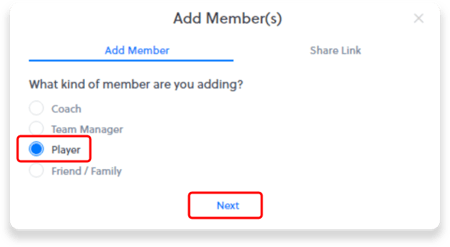 Guardian information must be added for minors in order to properly roster the team member.
If the player is a minor, make sure to select the 'Player Is A Minor' toggle to populate the guardian field below. If you do not add the guardian information you will not be able to add more than one team member under your email.
Reminder: all team members must complete their player surveys online through their own team dashboard before they will be added to an official roster and allowed to participate.

Step #5 - Player Questions
To check if player has completed their survey, the Document Icon on the player's card will be grey. If the player has completed their survey, the Document Icon will be highlighted in blue. If players on your team have not yet completed their Player Surveys, encourage them to do so by following this article on how to answer player surveys. To view additional player options, click on the player's card to reveal a dropdown. In some cases you might be able to complete their survey on their behalf. If that option is available, you can click the Answer Player Questions link and proceed to complete the player's survey.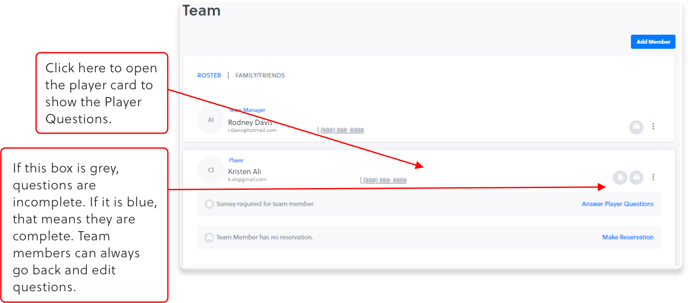 Step #6 - Removing Players
If you need to remove a player or team member from your roster you can do so quickly from your Team List page.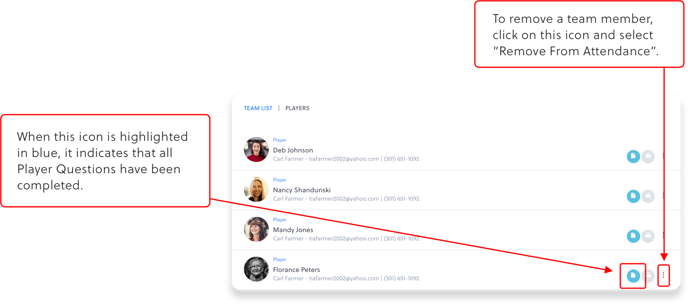 To confirm that all players have completed their Player Questions, click on 'Manage Team' from your Team Dashboard.